General Director of the MMCI
prof. MUDr. Marek Svoboda, Ph.D.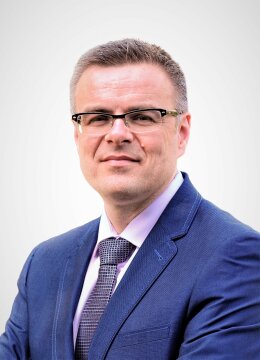 | | |
| --- | --- |
| E | [obfuscate_1_|99|96|108|98|96|115|55|103|108|114|45|90|116] |
|   | [obfuscate_1_|108|106|112|108|95|110|91|91|61|106|110|108|40|96|119] |
| T | +420 543 134 102 |
|   | +420 543 134 103 |
DEPARTMENT OF COMPREHENSIVE CANCER CARE
 
DEPARTMENT OF CANCER
EPIDEMIOLOGY AND GENETICS
 
OFFICE OF RADIATION SAFETY
Has been working at the Masaryk Memorial Cancer Institute since 2004.
Serving as a physician at the Department of Comprehensive Cancer Care and the Department of Cancer Epidemiology and Genetics.
Prof. Svoboda became the MMCI General Director in 2019; before that, he was acting for nine years as the Director for Science, Research and Education. In the years 2001-2002 he was working at the Dana-Farber Cancer Institute in Boston, then, at the Faculty Hospital in Brno.

In his clinical practice, prof. Svoboda specializes mainly in cancer of breast, colon and rectum, as well as in cancer genetics and prevention. He is also very active in cancer research; he was the leading investigator of nine grant projects and co-researcher of another eight projects. He has contributed to more than 100 publications in journals with an impact factor, which have over 3,000 citations (h-index 32). His scientific work has been awarded three times with the Minister of Health Award for Medical Research and Development. In addition, he acts as a teacher at the Medical Faculty of Masaryk University.
Prof. Svoboda is a member of the committee of Czech Medical Association of J. E. Purkyně and the Accreditation committee of the Organization of European Oncologic Institutes (OECI). He is active in Jan Pivečka Foundation, which helps to develop young talents at his home Wallachia. His motto in life is: "Never give up".
You may also be interested in...
Free Cancer Helpline
Monday – Friday from 7.30 AM to 3.00 PMn
(+420)800 222 322